Government Law
United States Code (USC)
The legal information of Cornell University provides and excellent reference site of al the House of Representative codes and regulations.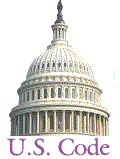 Code of Federal Regulations (CFR)
This front-end to the Code of Federal Regulations (CFR) is generated from and links to the most recent version of the CFR placed on the Internet by the Government Printing Office. It contains the federal regulations in force as of specific revision dates which vary from title to title. That for each title is shown on its table of contents
Crime and Criminal Law
Bureau of Justice Stats Page
Collects, analyzes, and publishes info on crime, criminals, victims and operation of justice systems at all levels of government.
The Counter Terrorism Page
Terrorism, security and personal protection, international law enforcement, intelligence, and counter terrorism policy. Articles on workplace, trends in terrorism, product tampering. Travel advisories provide health conditions and requirements for monitoring various countries.
Family Law
Family Law Information
Extensive links dealing with family law, such as marital dissolution, child custody, property, and mediation. Includes advice for parents.
Divorce Helpline Home Page
Keep the law out of your divorce. It features a help line center, short course, directory, and other self-help links.