Life - Relocation
---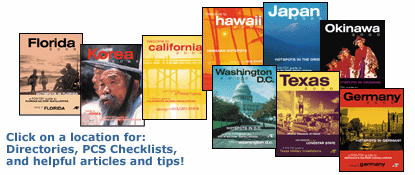 Military Moving Center Brings Savings Home
by Judd Anstey, AAFES
DALLAS – The Army & Air Force Exchange Service (AAFES) is on the move, offering military families a quick and easy way to save time and money on the numerous challenges associated with moving to a new assignment. Searchable by specific street address, AAFES' Military Moving Center service is a "one stop" shop where troops moving to or within the continental United States can connect and compare local utilities and services with just a few clicks of the mouse.
Saving on household services through the Military Moving Center is a snap thanks to a platform that provides instant access to "special offers" and makes it easy to compare prices through a comprehensive network of more than 500 local, third party providers. Each service category, including television, high-speed internet and even electricity, offers the ability to directly compare prices and services of up to three competing outlets. For example, a comparison of basic telephone service in Arlington, Virginia, yielded choices ranging in price from $19.99 to $44.49; some options even touted special incentives such as free installation or a gift card.
Many of the service options available at AAFES' Military Moving Center also include a "Best Price Guarantee" that ensures exchange shoppers receive the best price that each provider offers (online or otherwise). In fact, Army and Air Force families who use AAFES' free moving service may actually receive a better price for many products through this site than otherwise available because of the special discounts many providers extend exchange shoppers.
Because of the ability to quickly compare offers, the Military Moving Center is a helpful tool for service members that aren't even planning or in the process of moving. "Don't be fooled by this service's name," said AAFES' Senior Enlisted Advisor Chief Master Sgt. Bryan Eaton. "You don't have to be moving to log on and compare local services. Anyone, moving or not, should check out this free service to make sure they're not paying too much for everyday household expenses."
Authorized exchange customers, including uniformed personnel and members of the Reserve Components and family members, applicable Department of Defense civilians, exchange associates and retirees who possess a basic exchange purchase privilege authorization card, can directly access AAFES' free moving service through www.aafes.com by clicking on the "Military Moving Center" link.