Deployment Guide
---
Military Families Appreciation Month Highlights Service, Sacrifice
By Donna Miles
American Forces Press Service


WASHINGTON, Nov. 2007 – November kicks off Military Families Appreciation Month, an annual tribute to the family members who, President Bush and other U.S. and military leaders frequently recognize, serve the country alongside their loved ones in uniform.

The month-long observance, with events planned at Army, Navy, Air Force and Marine Corps bases around the world and in communities nationwide, highlights the contributions and sacrifices military family members make every day.

Bush thanked families for that service during an Oct. 28 visit to Charleston Air Force Base, S.C. "As the president of the United States, I want to tell you plain and simple," he told military families, "(that) the American people respect you, they appreciate you, and I'll do everything in my power to make sure the families and those who wear the uniform have all the support necessary to win this war on terror."

Bush emphasized the important role military families play in U.S. national defense when he introduced Iraqi Prime Minister Nouri al-Maliki to U.S. troops and their families at Fort Belvoir, Va., earlier this summer.

"Mr. Prime Minister, when I speak to our troops, I also talk to their loved ones, because you can't have a strong United States military without the support of the military families," Bush told Maliki during the July 26 session. "Our troops have sacrificed, and as they have done so, so have our military families. And so today we pay respect for the men and women who wear the uniform and their loved ones. We're proud of you."

Marine Gen. Peter Pace, chairman of the Joint Chiefs of Staff, expressed a similar sentiment earlier this month at the "Memorial Concert and Tribute to Today's Heroes" in Worcester, Mass. "When we go off to combat, our families wait at home and pray that we're safe," Pace told the audience, which included 400 Gold Star families who lost a family member in military service.

"For those of us who are fortunate enough to return, our families stand in the back when we receive awards. And when we get tired, our families dust us off and put us back again to the fight," the chairman told the group at the Oct. 16 event. "Our families serve this country as well as any (veteran)."

Vice President Richard B. Cheney was so struck by Pace's sentiment, one the chairman expresses regularly when he meets with military groups, that Cheney echoed them during a visit to Fort Hood, Texas, earlier this month.

While military families may pretend they have nothing to do with their loved ones' success during a deployment, "it is the love and support of our families that makes all the difference in the world," the vice president said at the Oct. 4 event.

"I know that General Pace's words speak for all of you," Cheney said. "And I want you to know that our whole nation is filled with respect and gratitude for our military families."

First lady Laura Bush recognized the contributions of military families, but particularly those of almost 190,000 U.S. children with one or both parents deployed overseas, during a conference this summer in Denver, Colo.

"Military kids are resourceful and resilient, but the demands of military life -- frequent moves and school transitions, long-distance parenting, parents reentering family life after the trauma of combat, not to mention the stress of knowing that Mom or Dad is in harm's way -- present unique difficulties for our troops and their children," the first lady said Aug. 4 at the Second Regional Helping America's Youth Conference.

"Military families give so much to our communities and our country," she said, "and Americans have the obligation to help them in every way that we can."

Related Sites:
President Bush's Remarks at Charleston Air Force Base
President Bush's Remarks at Fort Belvoir
Vice President Cheney Remarks at Fort Hood
For the latest News and Photos of the War on Iraq
Iraq war news and photos of soldiers deployed to the Mideast. Get a free T-shirt when you send a smile to our troops! click here for details SUPPORT OUR TROOPS This site is dedicated to Fort Sill Ok Field Artillery Battalion
Get the latest briefing of the War on Iraq with the War Tracker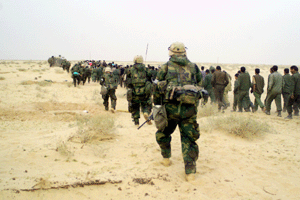 U.S. Marines from the 2nd Battalion, 1st Marine Regiment escort captured enemy prisoners of war to a holding area in the desert of Iraq on March 21, 2003, during Operation Iraqi Freedom. DoD photo by Lance Cpl. Brian L. Wickliffe, U.S. Marine Corps.
Commissary provides service and savings during deployments
By Carole Young
Military service members make many sacrifices to defend our country, among them: personal, professional and financial. All three seem to coincide when a service member is deployed or a Guard or Reserve member is activated, sometimes facing a reduction in household income.

The Defense Commissary Agency (DeCA) can help by providing significant grocery savings of 30 percent or more to service members and their families – when they use their commissary benefit regularly. Shoppers can expect to save even more on meat and produce purchases and frequent case lot sales help shoppers realize even bigger savings.
---
Children's book aids military families dealing with deployment

Mommy, you're my hero! & Daddy, you're my hero!

Child's perspective encourages compassion and support for children and families of military personnel


"Daddy, you're my hero!" and "Mommy, you're my hero!" are two versions of a children's book written for families in military and public service dealing with deployment. The book is based on the author's experience as an army brat.

According to the Military Times there are 3.3 million in the military community. This "military city's" demographics rank between New York and Los Angeles in terms of income and population. Now, those families are making the ultimate sacrifice for their country as their loved ones are deployed in the service of our country. These numbers do not reflect the huge numbers of reservists who can now count themselves among this population.

The You're my hero books are the first in the Books for Brats series for children of parents in military and public service brought to you by Little Red Haired Girl Publishing.

# # #



Some excerpts from letters readers have sent us:

* Reading this brought tears to my eyes. My oldest is 3 so he hasn't quite
understood the deployments but one day soon he will and that I know will
brake our hearts. I think this book is truly wonderful. It is right to the
point and easy for children to understand.


*As soon as I saw the first page, I had to stop for a while. I had to look
at it the first time by myself, to avoid allowing my son seeing the tears.
My father was a career military man during my childhood, too. I lived the
same things as you, saying goodbye, not quite understanding why. The vague
understanding that he was doing something dangerous and important was both
comforting and disturbing to my young heart. You have very eloquently said
so much that many have felt.

---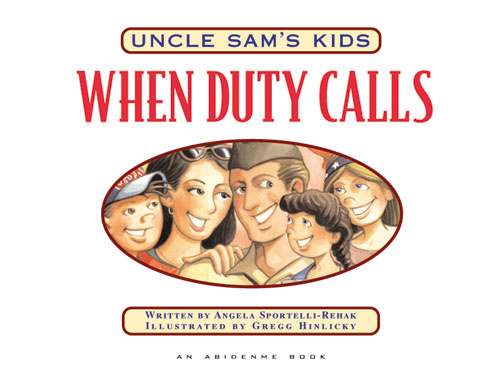 Uncle Sam's Kids in When Duty Calls is the first of a brand new series of children's books for the military child
that helps parents to help children understand often complicated questions like...
what is deployment?
where is Mommy or Daddy going?
When will they return?
Will we still be a family?
---
Military Wives Flock to Internet for Help with Mass Deployments
VIRTUAL REALITY – As tens of thousands and active duty, Guard and Reserve servicemembers deploy to the Middle East , their wives are turning to CinCHouse.com for help in coping with marital separation, single-parenting and financial hardship.
---
American Communities Battle to Help Military Families
Operation Homefront brings peace of mind to servicemembers deployed to Middle East
SAN DIEGO, CA – As tens of thousands of troops deploy from this and other military towns across the United States, their friends and neighbors down the street are joining together to help the families left behind by deployed servicemembers.
---
Send Greetings Now to the Front Lines!
Send a greeting via e-mail through at http://www.OperationDearAbby.net
Sign a virtual thank you card at http://www.defendamerica.mil/nmam.html
Military Relief Societies: Make donations to

Army Emergency Relief at http://www.aerhq.org/
Navy/Marine Relief Society at http://www.nmcrs.org/
Air Force Aid Society at http://www.afas.org/
Coast Guard Mutual Assistance at http://www.cgmahq.org/
Operation USO Care Package: Donate at http://www.usocarepackage.org
American Red Cross Armed Forces Emergency Services at http://www.redcross.org/services/afes/
---