On-Line Career Assistance

Registration only takes a few minutes and the benefits are numerous. It is completely free for applicants to use our services.
We offer you the most convenient and efficient way to expose your talents to a wide variety of quality companies - those seeking your military experience. Begin your exploration now and find the perfect career using our exclusive tools and resources.
Locate your dream job now
JobSeeker Services Offered by MilitaryMatch:

Search for current employment opportunities within your specialty in the MilitaryMatch CareerCenter.
FREE Candidate Professional Profile
allows you to instantly respond to future opportunities with a single mouse click! Potential employers automatically receive

notification if you

match their opportunities!

JobAlert uses your predefined search criteria to scan our database and automatically notify you by email of new opportunities within your profession or specialty.
Virtual Health Career Fair. Feel free to browse the aisles and visit with our participating employers! Drop off your Professional Profile instantly!
Career Fairs / Professional Meetings.

Throughout the year our career professionals visit military bases and professional events to promote available opportunities. Please stop by our booth at any of the our scheduled events.

Resume and Interview Tips are available on our Career Resources Page!
Healthcare Today is our online newsletter, containing stories and articles related to current market trends and potential employers affiliated with the MilitaryMatch Professional Network.
Professional Transition Assistance Seminars

.

Seminars offered with instruction in CV / Resume preparation, contract and salary negotiations, interview techniques, malpractice insurance and managed care issues.

Our career professionals are equipped to offer advice on

interviewing techniques, market trends, relocation assistance, contract and salary negotiation. Information is tailored for today's healthcare professional! To schedule a visit by our training team Click Here!
Civilian Transition
The DoD Job Search is an associate site of America's Job Bank, provided by the Departments of Defense and Labor. America's Job Bank is a partnership between the US Department of Labor and the state operated Public Employment Service.
Troops to Teachers provides Referral Assistance and Placement services to service members and civilian employees of Department of Defense who are interested in beginning a second career in public education as teacher or teacher's aides. The DANTES Troops to Teachers office will help in "linking" applicants with teacher certification programs and employment opportunities.

Transition Assistance Online (TAO) is a targeted employment web site that provides free services to specific job seekers (separating military servicemembers, retirees, veterans, spouses and dependents, DoD employees, etc.) to assist them in finding their next job or career with employers seeking to hire individuals with the unique training, education, skills and leadership that only the military provides
Lucas Transition Careers
A national recruitment firm that has built a sterling reputation for quality, integrity and professionalism since 1970. By registering with Lucas Careers online, resumes are forwarded to a Lucas Group recruiting expert, who will assist in providing connections to the nation's top companies.
Military Job Fairs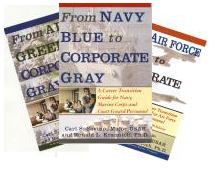 This year marks the 83rd year of the official existence of the United States Marine Corps Reserve. The true origins of the reserve, however, extend back to the Colonial period in American history. Throughout most of the 18th and 19th centuries, virtually all American men of military age served in their local or state militias. Several states along the East Coast and on the Great Lakes had naval militias that included detachments of Marines. By 1915, the rapid growth of the navy and the war in Europe finally prompted legislation officially creating a Naval reserve. Then on August 29, 1916 Congress passed statutory authority for the creation of the Marine Corps reserve.