Reserves - Shopping
---
DeCA gets new senior enlisted advisor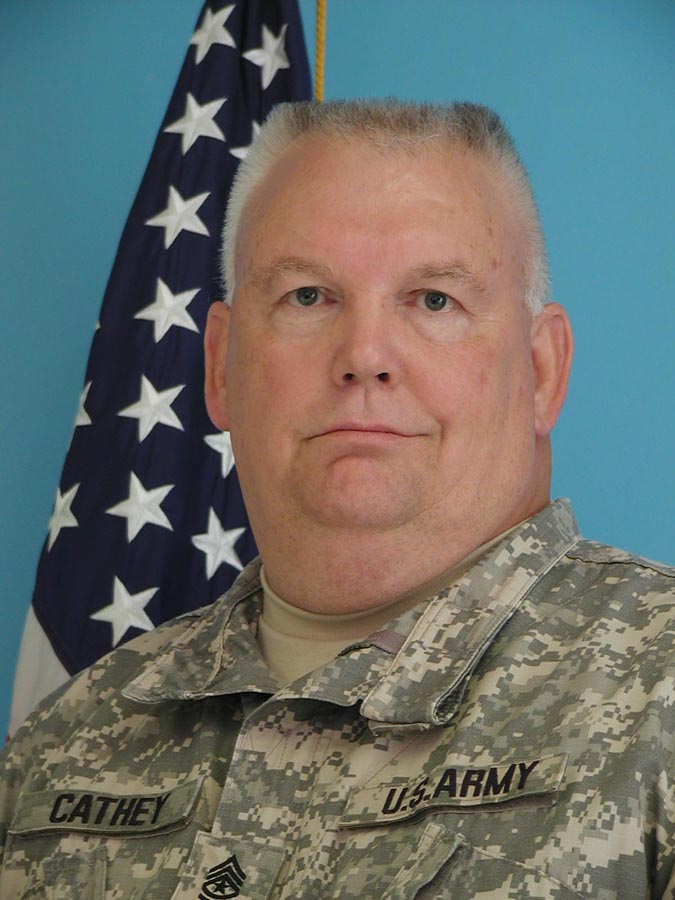 by Kevin Robinson, DECA
FORT LEE, Va. – Army Sgt. Maj. Max Cathey was introduced as the Defense Commissary Agency's new senior enlisted advisor to the director during the DeCA 2007 training event in Richmond, Va., April 24.
In his new position, he will serve as liaison with the senior enlisted chiefs of the armed services and advise DeCA's director on the needs of enlisted service members.
Cathey, a mobilized Army reservist on active duty, is on orders to DeCA for two years starting May 14. He leaves his former position as acting command sergeant major of the 324th Personnel Replacement Battalion in Starkville, Miss.
"I want our patrons to know that Sgt. Maj. Cathey will be their military advocate in DeCA headquarters to help work through any issues that relate to military members, whether active duty, retired or reservist," said Patrick Nixon, DeCA director and chief executive officer. "We are always promoting this benefit to make it more available to military members, especially in the retiree and reserve areas, and we know our new senior enlisted advisor will help us accomplish that goal."
Cathey is the agency's seventh senior enlisted advisor and the third Army sergeant major to hold the position. Air Force Chief Master Sgt. Deborah A. Brian was the last advisor from December 2002 to April 2005.
"Our patrons should be aware I am very proud to be part of the DeCA team," said Cathey, who has more than 33 years of military experience. "I will work tirelessly to sustain and improve the commissary benefit for our military members who have worked hard, sacrificed much, and richly deserve it.
"I have been using the benefit for more than 40 years, as a Navy dependent and throughout my military career," he added. "Also, my mother worked in the commissary at Naval Air Station Meridian, Miss., for more than 15 years. Life in and around the commissary runs deep in my family."
Cathey's more than three decades in the Army includes six years in the National Guard, 24 years as a member of the Army Reserve and the last two as a mobilized Army reservist on active duty. In civilian life he leaves his position with the Mississippi Department of Corrections as the director of compliance for local detention. Also, Cathey has served as a certified deputy sheriff (reserve) with various sheriff's departments for 15 years. He is also retired from BellSouth Telecommunications with 25 years of service in installation and repair of residence and business service.
Cathey graduated from the U.S. Army Sergeants Major Academy at Fort Bliss, Texas, in 1997. He received his Bachelor of Science degree in business administration from Belhaven College in Jackson, Miss., in 2001, and expects to receive his master's from American Military University, Charles Town, W.Va., in December.
His awards and decorations include the Global War on Terrorism Expeditionary Medal, Joint Service Commendation Award, Army Commendation Medal (seventh award), and the Army Achievement Award, with three oak leaf clusters.