HQ Air University
Air University's mission is to educate Air Force people to develop and lead the world's best aerospace force -- inspiring commitment to a war-winning profession of arms
.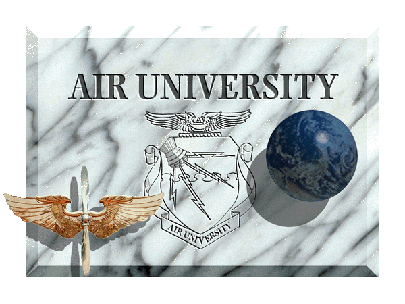 The Academic Instructor School (AIS) is the "Teacher's College of the Air Force." Widely acclaimed by civilian and military educators, AIS is known for its unique contributions to the field of education.
College of Aerospace (CADRE)
We assist in the development, analysis, and war gaming of the concepts, doctrine and strategy of aerospace power and we also educate Air Force and Joint communities on war fighting at the operational and strategic level through research, war gaming and military education courses.
College for Enlisted Professional Military Education
The Air Force Enlisted Heritage Research Institute is dedicated to preserving the rich and dramatic heritage and tradition of the enlisted corps of the U.S. Air Force and U.S. Army Aeronautical Division, Air Service, Air Corps and Air Forces in the development of air power to defend the United States.
Community College of the AF
The Community College of the Air Force enjoys the distinction of being the largest multicampus community college in the world.
Professional Military Education (PME)
Air University conducts professional military education, graduate education and professional continuing education for officers, enlisted personnel and civilians to prepare them for command, staff, leadership and management responsibilities. Specialized and degree-granting programs provide education to meet Air Force requirements in scientific, technological, managerial and other professional areas.
---
Military Education
Military Colleges/Academies
Military Leadership, History and
educational resources.
Military Education Online
Academies, Officer Training Schools, Regulations and general information about Military Education.
The DoD Voluntary Education Program provides off-duty civilian high school, vocational-technical, undergraduate and graduate educational opportunities to U.S. military personnel worldwide.
Montgomery GI Bill- Active Duty
The Montgomery GI Bill - Active Duty, called "MGIB" for short, provides up to 36 months of education benefits to eligible veterans for:
College, Business
Technical or Vocational Courses
Correspondence Courses
Apprenticeship/Job Training
Flight Training
Get The Education You Need To Succeed with an Online Degree! Join the professionals who are getting ahead by earning their accredited MBA, Bachelors, Associates degree or Project Management Certification via the Internet from nationally known universities like Villanova and St. Leo University, part of eArmyU. All via the University Alliance. Classes begin every 8 weeks.
DoD Schools
DoD Voluntary Education Program
Higher Education
Complete list of US Universities
Peterson's
All About College
Financial Aid/Scholarships
USA Schools
American School Directory
K-12 Schools in the US.