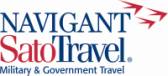 Navigant/SatoTravel announces special programs for returning troops
Kaiserslautern, March, 2005 – Navigant/SatoTravel, the second largest provider of corporate travel management services in North America and one of the largest providers of travel services to the U.S. military and government, today announced it is welcoming returning troops home with a variety of travel services designed especially for that "Dream Getaway," including access and reservation options aimed at making the travel experience easier.
One of the fastest and easiest ways of accessing travel information is online at Navigant/SatoTravel's leisure web site at europe.satovacations.com. Military customers will find everything they need to handle their "block leave" vacation needs from special airfares to the United States, vacation packages and escorted tours to European destinations, affordable luxury cruises to exotic places, ski holidays, romantic weekend getaways, and family vacations.
For online air reservations, credit card holders will enjoy using the self booking option that provides confirmed and instant ticketing of airline reservations while online, guaranteeing the price. Tickets are either available electronically, or if necessary, they can be couriered directly to the customer. As a special, limited feature from mid-February to Mid-June, SatoTravel has initiated, with their booking-engine partner InfoSys, the capability of "cash" bookings. Travelers may book flights and a confirmation will be sent directly to the customer's e-mail account indicating the tickets will be ready for payment and pick up at their nearest USAREUR Navigant/SatoTravel office. The price is not guaranteed until the customer picks up the tickets.
An additional enhancement especially designed for Web users is a special priority express line to expedite ticket pick up at all USAREUR travel locations.
Local USAREUR Navigant/SatoTravel offices are also prepared to serve their customers by offering a wealth of information with expert travel counselors to assist customers with their every need.

---
Navigant International and SatoTravel announce new logo …
In June of 2002, Navigant International, Inc. acquired SatoTravel, the leader in military and government travel. Navigant is now the second largest travel management service provider in North America. The new logo reflects the joint efforts of the company to bring their customers an expanded range of travel services and products.
In addition to official travel services offered by Navigant/SatoTravel in the European military theatre, USAREUR offices offer arrangements for your vacation travel as well. Services offered include airline reservations, car rentals, hotel accommodations, cruises, affordable European motor coach tours, rail travel, vacation packages, ferry tickets and pet shipping.
In the near future, Navigant/SatoTravel will launch a new European vacation Web site aimed specifically to serving military and government travelers in Europe. This site will offer on line shopping and direct booking capability.
Vacation travel will soon be easier to book than ever before from the name you've come to know and trust.