GrooveLily Timeline
1994: Valerie Vigoda releases her debut solo CD "Inhabit My Heart." Val and Brendan begin writing songs together. Gene Lewin subs on drums occasionally.
1995: The Valerie Vigoda Band plays weekly in the East Village, attracting a devoted local following.As a trio (violin/keyboards/drums) they move to Amsterdam for 13 weeks, playing immediately after an American comedy troupe 4-6 nights a week. Back in New York, they begin recording "jungle & sky."
1996: First college gigs."jungle & sky" is released in May, and the band name is officially changed to "GrooveLily'."
1997: More college gigs.Valerie accepts gigs backing Cyndi Lauper & Joe Jackson. "GrooveLily Sampler" is recorded during tour breaks, and is released in October. Gene Lewin joins full-time on drums. Brendan and Gene begin recording "brendan & the extenuating circumstances."
1998: Val's parts are added to "brendan & the extenuating circumstances," which is released in July. GrooveLily plays an alarming number of college gigs.
1999: More college touring.Val back out with Cyndi Lauper, who invites Groove-Lily to open for her at selected shows. Tons of demos recorded.The band turns down two indie record deal offers.
2000: Recording of "Little Light." Microsoft distributes 50,000 GrooveLily compilation cds as part of the philanthropic "Equal Access" program.Lots of festivals.
2001: "Little Light" & "Folk Appetizer" released; each gets some national airplay on AAA/Folk radio. GrooveLily plays the main stage of the Kerrville Folk Festival, Philadelphia Folk Festival, and Ottawa Folk Festival. RV bought to accomodate 5-piece touring version of the band, plus sound guy.
2002: 150 shows this year.RV sold on Ebay after many breakdowns. Band streamlines back down to core trio. Live album,"Just The Three Of Us," released in November."Striking 12," the GrooveLily Holiday Show, runs for the month of December at the Prince Music Theatre in Philadelphia.
2003: Recording begins on "Are We There Yet?", the new studio album.The band hits the road in intrepid new van, "Millie Van Lily."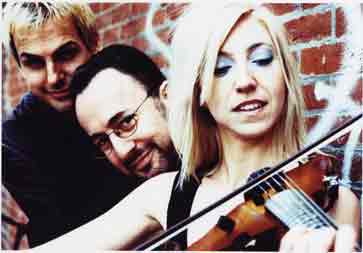 Look, up on the stage. It's a jazz band. It's a power pop trio. It's a performance art ensemble. No, it's GrooveLily, which is all those things and a whole lot more.

—Michael Miller,The State (Columbia, SC), 3/1/2002

GrooveLily

plays smart pop, with a contagiously effervescent sound that combines a sharp wit with intelligent original songwriting. Unabashedly combining elements of rock, jazz, folk and popular music, their vocal harmonies weave through a lush musical landscape textured with keyboards, drums and the blazing electric violin of lead singer Valerie Vigoda.

Valerie Vigoda

, electric violinist and singer, is the founding member of GrooveLily. Originally from McLean,VA, she has toured the world with Cyndi Lauper, Joe Jackson, and the Trans-Siberian Orchestra. She is thrilled to be back with GrooveLily as they take the country by storm.Valerie is a classically-trained musician, former Army lieutenant, and an honors graduate of Princeton University. She founded GrooveLily (originally "The Valerie Vigoda Band") in 1994, with a critically acclaimed CD called "Inhabit My Heart." Dirty Linen Magazine wrote: "to call Valerie Vigoda talented barely seems to do her justice. She has a great voice, is an intelligent lyricist...and an ace violinist. Methinks we'll hear more of her."

Brendan Milburn

plays keyboards and sings. His two-fisted, rhythmic piano playing is reminiscent of early Billy Joel, or more recently, Ben Folds Five. Before joining GrooveLily, he graduated from Pomona College and NYU's MFA program in Musical Theatre Writing, and played with both Ben Harper and Clarence Clemons. He often yearns for his native San Francisco.

Gene Lewin

plays the drums, and hails from Princeton, NJ. His eclectic, joyful work on the drum kit has been favorably compared to that of Carter Beauford (of the Dave Matthews Band).After graduating from Princeton University, Gene earned a Master's degree from the Manhattan School of Music. He has appeared on CDs with George Coleman, John Patitucci, and many others.