Market - Health
---
Mesothelioma
According to the U.S. Department of Veterans Affairs, there are currently 25 million living individuals who have served in the United States' armed forces. Hundreds of thousands, if not millions of these living veterans were exposed to toxic asbestos-containing materials during military service. According to a revealing statistic, more than 30 percent of Americans beset with a terrible disease called mesothelioma were exposed to asbestos during military service. What is mesothelioma? It is a rapacious cancer that attacks the internal lining of the lungs, abdomen, and heart.
Widely used by every military branch, asbestos was highly regarded for its heat resistance and fireproofing capabilities. In fact, asbestos was so valued that the military even mandated widespread usage before eventually phasing out the material in the 1970s.
Most military divisions utilized the caustic substance mainly for insulation purposes, but more than 300 products containing asbestos were used by the military, primarily by the Navy from the 1930s through the 1970s. Every ship and shipyard built by the Navy before the mid-70s was fitted with numerous asbestos-containing materials.
Asbestos dot com offers information on mesothelioma & veterans, as well as a complete list of occupations, ships, and shipyards that could have put our Veterans at risk for developing a mesothelioma disease. Additionally their Veterans Assistance Department offers extensive experience in filing VA claims and can help any veteran coping with mesothelioma receive benefits from the VA system.
---

Bayer Cares for Our Troops
Bayer supports Soldiers' Angels through Commissaries
MORRISTOWN , N.J. , October 7, 2009 – Bayer Healthcare is proud to announce a $20,000 donation to Soldiers' Angels Adopt a Soldier program.
Bayer Healthcare teamed up with the Defense Commissary Agency (DeCA) to support Soldiers' Angels, a volunteer-based non-profit organization that supports all branches of the U.S. Armed Forces through special projects, dedicated teams and individuals caring for our troops. Whether sending care packages, helping families at home, or assisting the wounded, Soldiers' Angels makes a visible difference in the lives of our service members.
Bayer Healthcare tracked sales during the month of June. For every $1.00 spent on participating Bayer products (Bayer Aspirin, Aleve, Alka-Seltzer, One A Day, and Citracal), Bayer donated $0.05 to Soldiers' Angels Adopt a Soldier program up to a maximum of $20,000.
The check presentation ceremony took place on September 24, 2009 at Shades of Green Resort in Orlando , FL.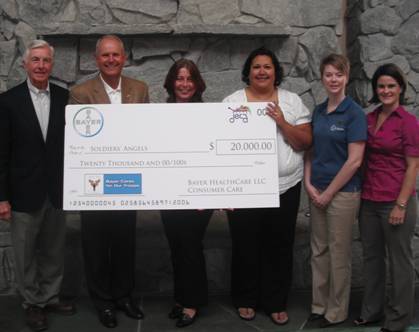 In the photo from Left to Right: Frank Hogan, Chairman and CEO Overseas Service Corporation; Philip E. Sakowitz, Jr., Director and Chief Executive Officer Defense Commissary Agency; Sheryl Walker, Soldiers' Angels; Kathy Silveira, Soldiers' Angels; Melissa Richardson, Military Market Manager Bayer Healthcare; Beth Seymour, Customer Development Manager Bayer Healthcare
About Bayer Consumer Care
The Consumer Care Division of Bayer HealthCare LLC, is headquartered in Morristown , N.J. Bayer's Consumer Care Division is among the largest marketers of over-the-counter medications and nutritional supplements in the world. Some of the most trusted and recognizable brands in the world today come from the Bayer portfolio of products. These include Bayer® Aspirin, Aleve®, Alka-Seltzer Plus®, Bactine®, Citracal®, RID®, Phillips'® Milk of Magnesia, Midol®, Alka-Seltzer®, One A Day®, One A Day® Prenatal and Flintstones™ vitamins.
About the Defense Commissary Agency
The Defense Commissary Agency with headquarters at Fort Lee, Virginia, operates a worldwide chain of commissaries providing groceries to military personnel, retirees and their families in a safe and secure shopping environment. Authorized patrons purchase items at cost plus a 5–percent surcharge, which covers the costs of building new commissaries and modernizing existing ones. Shoppers save an average of more than 30 percent on their purchases compared to commercial prices—savings worth about $3,400 annually for a family of four. A core military family support element, and a valued part of military pay and benefits, commissaries contribute to family readiness, enhance the quality of life for America's military and their families, and help recruit and retain the best and brightest men and women to serve their country.
---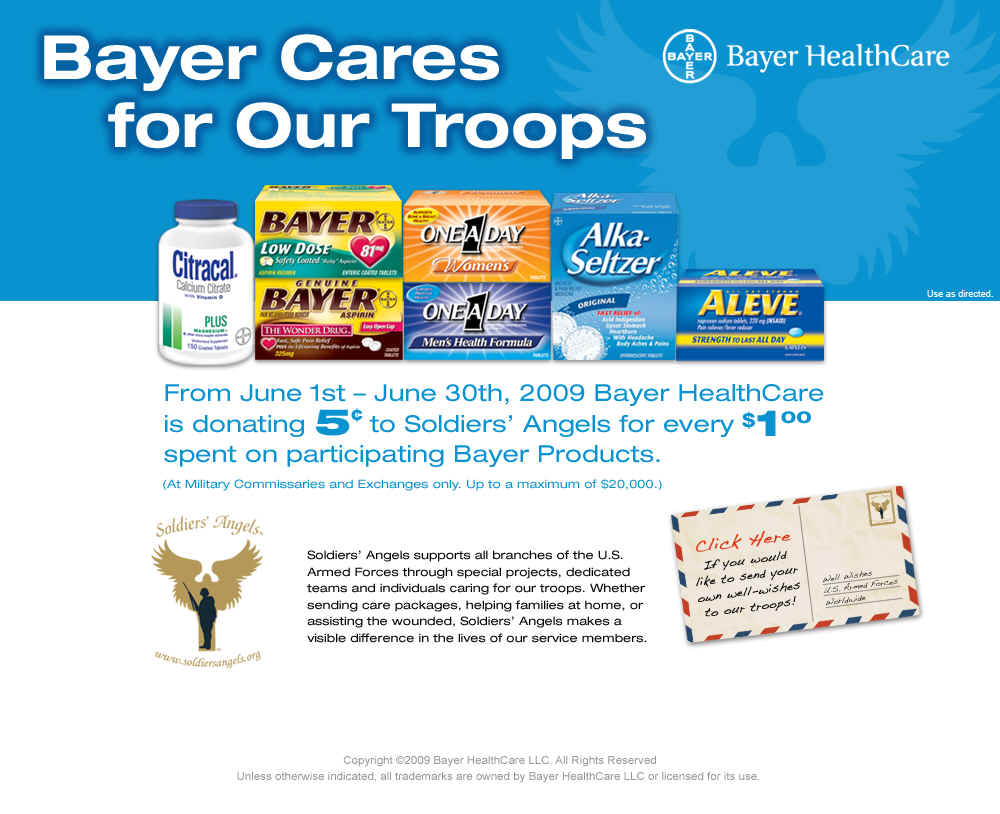 ---