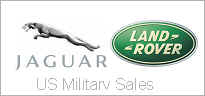 Long Anticipated – Now Available: Jaguar /Land Rover Military Sales Program
---
Overseas service life offers experiences and benefits that most people back home can't even imagine, such as the Jaguar/ Land Rover Military Sales program. It is a professional organization with international networks and local outlets in Germany, Iceland, Spain and UK.

All Jaguar/Land Rover Military Sales dealerships are close-by US-Military bases in the respective countries. All agents are experienced in the military car business, since all of them arose from Volvo Military Sales, the first military car sales program ever. All three brands are united in PAG, the Premier-Automotive-Group.

All US Military customers staying overseas can benefit from a wide variety of advantages if they decide to buy a new Jaguar or Land Rover at an official PAG Military agent. By this measure, PAG stresses their customer orientation and belief in the quality of their cars and their production.

PAG sales agents are dedicated to making it advantageous and convenient for the military customer to buy a new car at a substantially reduced price, in addition to further benefits, such as:
· Great savings compared to stateside prices
· No import tax on vehicles delivered overseas
· Tailor-made special offers only for US Military personnel
· Sales and information outlets close to nearly all bases
· Delivery to a Jaguar/ Land Rover close to your base
· The benefits of the Jaguar / Land Rover Roadside Assistance program at no extra cost
· Professional assistance with all the legal formalities and paperwork
· Four-year (US) international/ 50,000 miles factory limited warranty
· US specifications – built to meet legal requirements in all US states
For more information please contact your local Jaguar/Land Rover Military Sales agents:
Capitol Motors GmbH
Nick Burton
Weilerbacherstraße 110
67661 Kaiserslautern

Germany

Faber Motor Corporation
Suzana Kynaston
Rottendorfer Straße 27b
97074 Würzburg

militarysalesp@fmc-wuerzburg.de

Germany

Auto-Pieper*
Jason Lappin
Untere Waldplätze 31
70569 Stuttgart-Vaihingen

info@autopieper.com

Germany

*only Land Rover

Autovillage
Rob Bell
Chamberlain's Farm Barn
Eriswell, Suffolk IP27 9DB

rob@autovillagemilitarysales.com

United Kingdom

Autovillage
Beatriz Fernandez
Zoilo Ruiz Mateos 1
11520 Rota Cadiz

Spain

Premium Car Sales
John Baulch
Njardarbraut 3
260 Reykjanesbae

info@premiumcarsales.com

Iceland

*only Land Rover
For more information, click on below..

---

---